Bücher der Edition URLAUBSARCHITEKTUR // HOLIDAYARCHITECTURE books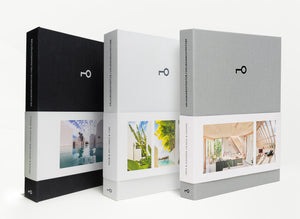 ICMA Gold Award 2024 !!!
Unsere aktuelle Buchserie wurde gerade ausgezeichnet mit dem ICMA Gold Award 2024 // Our current book series has just been honored with the ICMA Gold Award 2024
NEU: Orte & Visionen // NEW: Places & Visions
NEU ! // NEW !
Unser neustes Buch ist erschienen, wieder als Kombination mit einem inspirierenden Magazin. // Our latest book is out, again with an inspiring magazine as a supplement.
Orte & Visionen // Places & Visions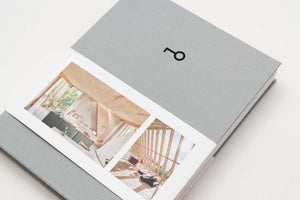 Aktuelle Ausgaben // Our latest books
---
Im neuen Design und mit einem Magazin als Beilage: Häuser & Menschen ist 2020 erschienen, Raum & Zeit erweitert 2021 die neue Serie. Wie schon bei unseren Selection Büchern werden aktuelle Urlaubsdomizile in Europa vorgestellt, die nicht nur architektonisch eine Reise wert sind. In den Magazinen stellen wir die Menschen hinter den Partnerhäusern in den Fokus – und lassen Gastgeber, Architekten, Designer und kreative Köpfe mit einer klaren Vision und außergewöhnlichen Ideen zu Wort kommen. Beide Ausgaben haben einen hochwertigen Hardcover-Umschlag mit Leineneinband. 
In a new design and for the first time with a magazine as supplement: Houses & People was published in 2020, Space & Time continues the new series in 2021. As with our Selection books, we present holiday homes throughout Europe, which are not only worth visiting for their architecture. In the magazines, our editorial team focuses on the people behind our partner houses and lets hosts, architects, designers and creative minds have their say – with a clear vision and extraordinary ideas. Both books have a high-quality hardcover with a linen binding. 
Use HTML to format your text so it can be easily read.
This text can be used to share information about your brand with customers.
Auszeichnungen // Honors
Buchserie 2020-2023 // Book series 2020-2023: ICMA Gold Award 2024
Raum & Zeit // Space & Time: ICMA Award of Excellence 2022
Selection 2019: Longlist: Die Schönsten Deutschen Bücher 2020, Stiftung Buchkunst // Longlist: The Most Beautiful German Books 2020, German Book Foundation
Selection 2017: Gewinner des German Design Award // German Design Award Winner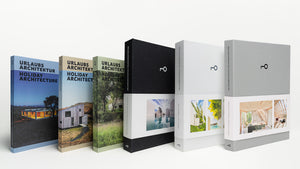 URLAUBSARCHITEKTUR ist das führende Webportal für architektonisch beispielgebende Ferienhäuser. Wir geben auch preisgekrönten Coffeetable-Bücher heraus - diese sind im Buchhandel erhältlich und hier in unserem Shop.
URLAUBSARCHITEKTUR is Europe's leading online portal for architecturally outstanding holiday homes. We've published a series of award-winning books - available in bookshops or to be ordered directly here in our online shop.